PROVIDENCE

It's almost easy to imagine Dick Shappy's 1911 electric trolley rattling down the streets of Providence.

Almost, because it is still missing its wheels and two electric engines.

But the basic structure is in shape, with rebuilt platforms at each end, two rows of wicker-covered seats running along the inside and a new coat of Pennsylvania Transit Green paint on the outside. Shappy has even lined the inside with period advertisements.

But seven years ago, when Shappy paid $1 to salvage the skeleton of the trolley from a condemned diner, it was hard to imagine it doing anything but taking a one-way trip to the garbage dump.

"It was two weeks from the wrecker's ball," he said.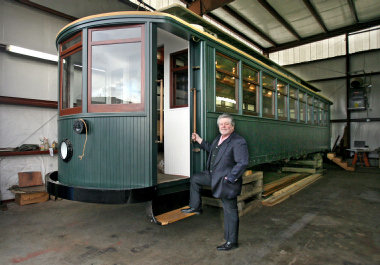 This 98-year-old Osgood Bradley electric trolley "was two weeks from the wrecker's ball" before Dick Shappy came to its rescue.


Indeed, it was in such bad shape it was only identified by the bolts on the undercarriage.

"By the bolt pattern I believe that car to be an Osgood Bradley [electric trolley]," he said in a recent interview, citing an expert's opinion that got the restoration project started.

Shappy was standing in the workshop he built in 2004 to house the restoration project. He said the trolley had spent a couple of years in a parking lot under wraps after being trucked up from Warwick on a flatbed.

He noted that while he paid $1 for the salvage rights, bringing it up to Providence cost $6,000.

Subsequent research by Shappy and others, most notably the Shore Line Trolley Museum in East Haven, Conn., revealed it to be a 1911 Osgood Bradley trolley built in Worcester and delivered to the Rhode Island Co. on Dec. 14, 1912. It was the first of 31 trolleys delivered, number 1068 in a sequence that ran to 1099.

"I've always had a love for early transportation history and a fondness for early trolley cars," he said, adding that he had been looking for an antique trolley for some 25 years before discovering the Osgood Bradley hidden in the diner.

Shappy said the trolley was in service until 1939, sold in 1940 and converted into the Veterans Square Diner in Warwick. Others were burned in a vast pyre at Rocky Point, with a small number refurbished and continuing in service, he said.

By the time Shappy got to it, No. 1068 was barely recognizable as a trolley. The platforms at both ends, where passengers boarded and the driver sat, had long been cut off, a door had been cut through the side, wheels and engine were gone and the interior was given over to cooking and serving food.

Adding insult to injury, a driver had crashed through it two years earlier, a final act of unintended vandalism that prompted the city to condemn it.

Shappy said he got interested after driving past the condemned diner and, as an inveterate collector, noticed that it was furnished with an art deco clock made by the Electric Neon Clock Co. of Cleveland, Ohio.

"I'd driven by hundreds of times before I noticed it was a rare clock," he said. "I called the town to ask whether the owner was interested in selling it. A week later, the clock was gone."

But he said his interest in the clock got him interested in the diner and when he discovered the basic structure was an old trolley, he decided to save it for restoration.

"It's history that would have been lost forever," he said.

Shappy is a nightclub owner and vintage auto collector and restorer. During a recent visit, some 15 antique cars, mostly Cadillacs, were sitting in various states of restoration in his workshop garage next to the Cadillac Lounge gentlemen's club. At the far end, an immaculate blue 1913 five-passenger Phaeton Cadillac was being prepared for shipment to the famed Amelia Island (Fla.) Concours d'Elegance, which opens March 12.

He said restoring the trolley had proved to be a long and costly business. Not that he ever expected otherwise, originally estimating it was going to cost him about $50,000.

Since so much of the original structure had to be rebuilt from scratch, he hired restorer Chris "If it's wood, I'm good" Brayton who, with his long gray hair and Shenandoah beard, resembles a 19th century patriarch.

Brayton has spent years rebuilding most of the superstructure, explaining how various parts were made based on old photographs. Shappy was later able to get hold of blueprints, which helped.

Shappy has also had many parts reproduced based on designs and examples supplied by the Shore Line Museum.

"They have been very helpful to me," he said, noting the museum supplied parts and designs and photos.

More significantly, the museum gave him two rheostats on wooden columns that sat in the middle of the platforms at either end of the trolley and powered the vehicle.

Shappy bent down and pulled up the small seat that the driver would have transferred to the other end of the trolley when he reached the end of the line.

Rather than turning the trolley around, he showed how the driver would have lowered the spring-loaded trolley pole that connected to the overhead power lines at one end and raised the pole at the other end. Transferring his seat to the other end of the trolley and activating the rheostat, he would set off in the opposite direction.

Shappy said he did not think the ride was particularly comfortable for the passengers.

"Loud, rough and cold," he said. But it did have electric heaters under the seats that were connected to the 600-volt overhead wires and was no doubt more reliable than the former horse-drawn omnibuses.

During a visit to his office, which was overflowing with collectibles and paperwork, he showed off some brass brackets that held the leather straps that ran the length of the trolley. Here was an original piece, loaned by the museum, and here was a box of duplicated pieces that had been recreated by the Paul King Foundry in Johnston.

And here was a new leather strap exactly duplicating the old, half-perished strap that he had sent to a workshop in California. A piece of paper was attached to the old strap with "I need 30 of these" written on it.

"Horrendous, I could have built a house," he said when asked how much money he's spent on the project so far. "There were thousands of small pieces that we've needed to make."

And he has yet to acquire one of the most expensive elements: the trucks, or two electric engines on four wheels apiece, that sit under the body.

He said he located one set of trucks and nearly bought them, but a museum in San Francisco turned out to have the prior claim. Not that they were any prize.

"You should have seen them," he said. "Rusted-out old pieces of iron with trees growing through them."

So, for the time being, the trolley sits on wooden blocks and the floor on the inside, through which the trucks will be installed, has not been finished with grooved bowling alley maple, according to Brayton.

Shappy said he is unsure what he will do with it once the project is complete. Certainly he does not expect to make any money from it.

"If it's an investment, it's one of the poorest I've ever made," he said.

"Maybe it will be worth something in my estate. But who else owns an Osgood Bradley?"

For more information, including an extensive number of photos showing the trolley project from abandoned diner to the present, go to:

http://www.classiccars.ws/projects/1911osgbradtrolley/Jindex.html